Artist KC Grapes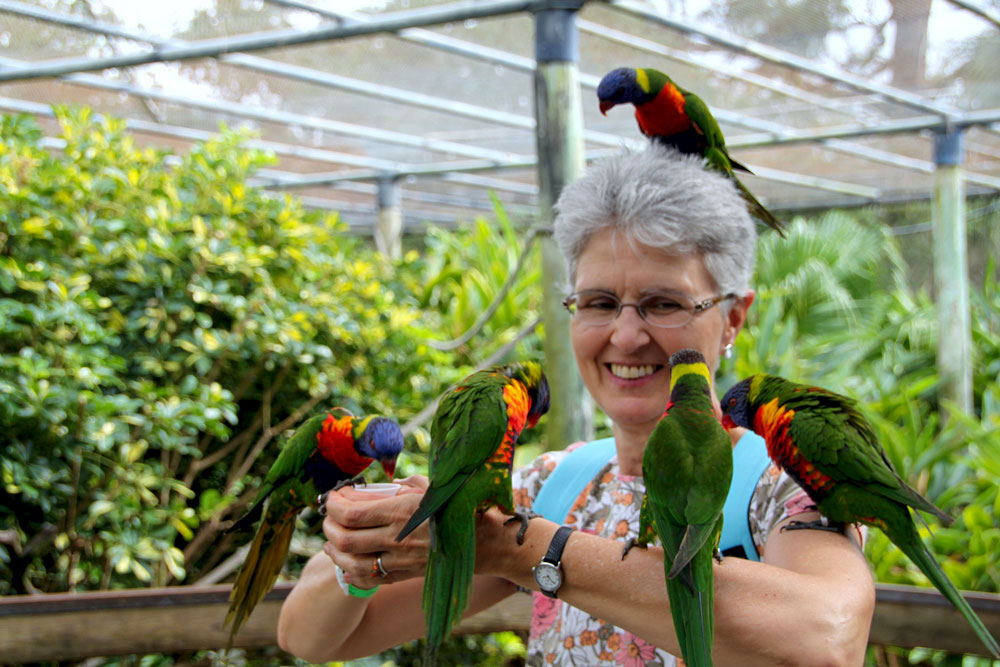 KC feeding the Loris at Brevard Zoo.
Our oldest daughter, Kestrel, calls me a "creative Swiss Army Knife". She says, "Mom, you can work in any medium on any surface. And no matter what you do, the end result is always beautiful!"
I've created art in all types of mediums … charcoal, watercolor, acrylics, fabrics, pastels, batiks, oils, and colored pencils … on all kinds of surfaces from canvas and Crescent boards to recycled cardboard boxes, fence pickets, and scrap wood. Furthermore, my art ranges from realism to abstract to funky to folk art. I am consistent about only one thing: My subjects are almost always animals, usually the wild kind.
The only thing I have ever been artistically interested in for as far back as I can remember is animals. My very earliest memory is of the little primary-colored zoo animals printed on the curtains next to my crib. They were dull until the sunlight sparkled through them — then they glowed. The earliest piece of art I remember making was a green crayon drawing of a horse, which was spot on. I remember it very clearly … and also that my mother didn't know what it was.
I made mud animals in my back yard and set them out to dry. Someone gave me a book on origami so I spent hours dreaming up ways to fold animals out of paper. Like every kid obsessed with art, I filled tablets with drawings, always of animals. We had a 400-page book, Wild Animals of North America by Nat Geo, which I still have today. Every page has photos or paintings of wild animals that I poured over and studied, often trying to replicate them in my own drawings. When I was seven, my mother enrolled me in Saturday art classes for children at the local art museum. There I experimented with all kinds of mediums and styles. Those classes spawned my love of art in all forms.
My parents encouraged my art in grade school, but never took it seriously as a potential career. When I wanted to study fine art in college they said I could only study art if I majored in Art Education. Teaching art to kids wasn't something I yearned to do, so I dropped out after only two years.
In '73 I hitched a ride with a friend across the country to California where I got a job as a receptionist and met my future husband. He and I gradually job-jumped our way back across the states. For decades, I worked at blue collar jobs, desk jobs, management jobs, and joint ownership of two advertising companies. Through it all, I continued my experimentation with various art mediums. No matter what type of job I had during the day, my thoughts were always on getting home and working on my art in the evening.
I consider myself to be mostly self-taught through trial and error. I've taken a couple workshops along the way, but for the most part the greatest amount of my learning has been from thousands of hours working at my craft and studying the paintings of other artists … right down to how they laid down their paint, stroke by stroke.
Lately, I've begun to want to paint fast and loose. Unfortunately, I love detail … but it's tedious and time-consuming. So, my compromise with myself is to paint a partially detailed subject in a loose surrounding. My first painting in this style was Mr. Otter, and it was exactly the art experience I've been searching for. After all those years of experimentation, I'm now eagerly looking forward to settling into a new art style and exploring more of my favorite subject … wild animals.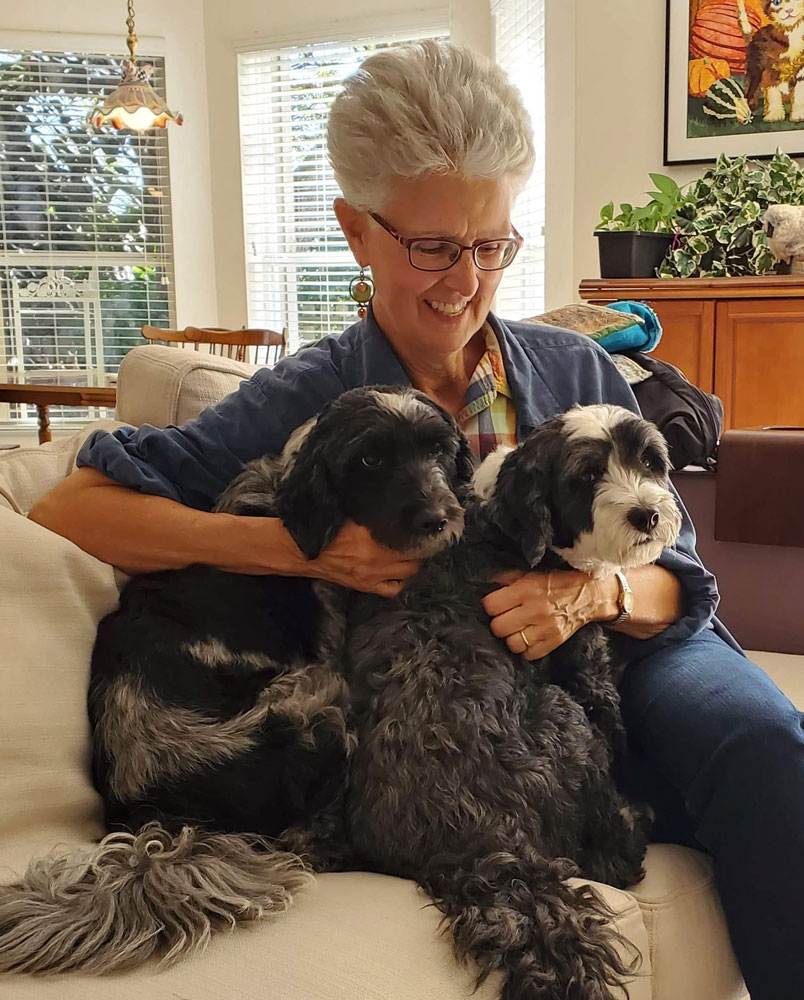 KC with the "grandkids," Obi-Wan and Revan.