Artist Kestrel Michaud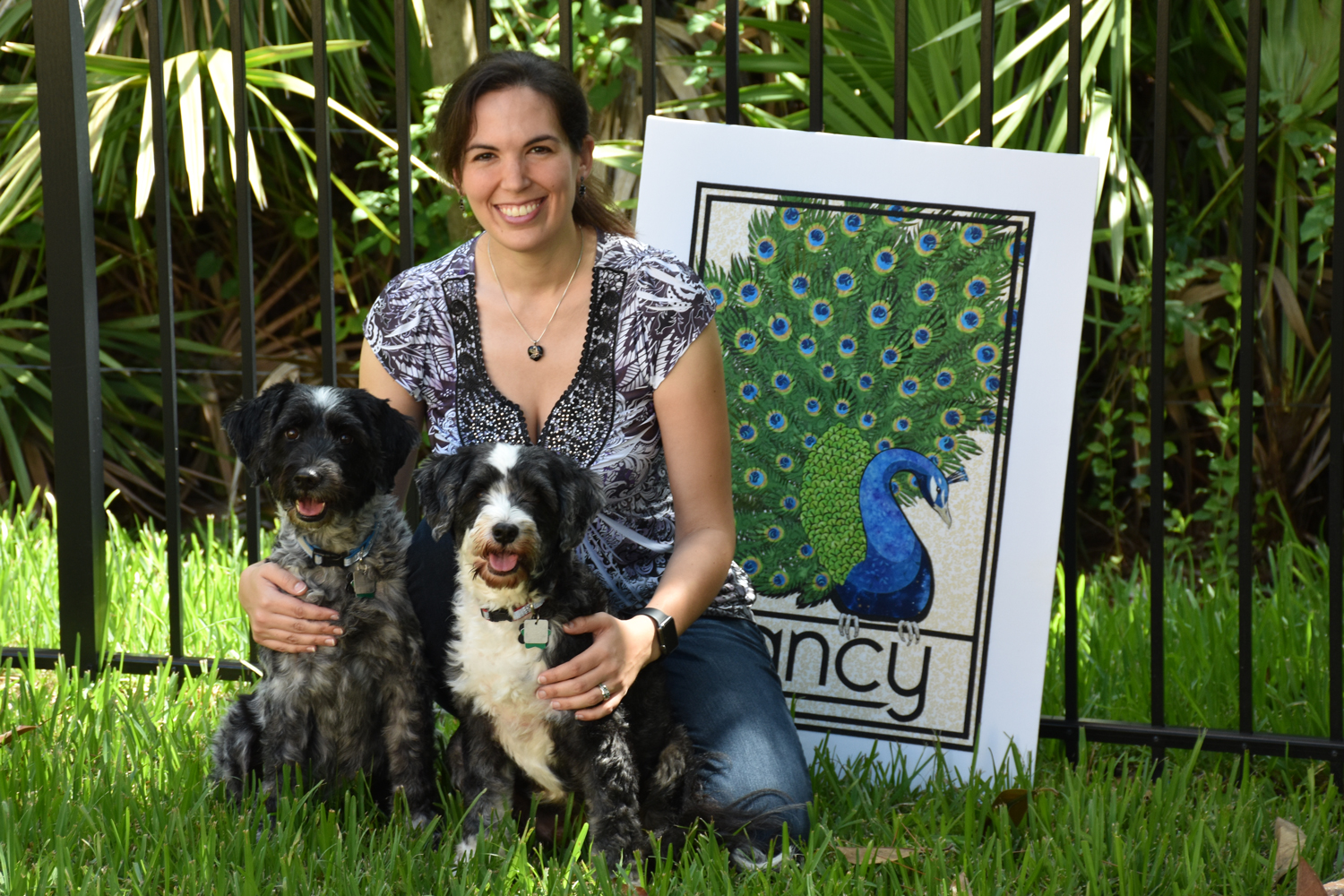 Kestrel with her dogs, Obi-Wan and Revan, and her fabric picture Fancy.
A long time ago, in a city far, far away…
Some people are born with silver spoons in their mouths, but I was born with a crayon in my hand. Mom had me scribbling and drawing before I could even walk, so it's no exaggeration to say I've been making art my entire life. I entered my very first art contest — a local show for a firemen's fundraiser — at the age of nine and even won Best in Show across all age groups.
There are times in our lives when, looking back, it's easy to see a momentous event or turning point. Something happens to change the course we are on, and our lives are forever altered. I had one such moment when I was 15 years old.
It was the summer of 2004. Mom took me to our local art league to see a presentation given by an artist who worked with fabric. She described a process of using fabric, Teflon film, and fusible web — a type of fabric glue — to make pictures. This hour-long event changed my life.
I had sewn fabric into clothing at that point, and I had been making artwork for years, but I'd never considered making artwork out of fabric. That artist's presentation made the connection in my brain, and I had to try it for myself. After just one year of hard work and experimentation, I knew without a doubt that fabric was the one medium I wanted to use for the rest of my life. I'd found my passion.
The Early Years
I spent my last two years in High School devoting every spare moment of my life to making fabric pictures. I took a study hall and self-study art class each semester to have free time in school to make fabric art. I woke up at 4am to spend two hours making fabric art before going to school, and went right back to it after finishing my homework at night. Any and all downtime was spent turning fabric into art.
By the time I started applying to colleges, I had an entire portfolio full of fabric pictures. Bucky, the admissions guy at Ringling College of Art and Design, looked at all the mounted fabric art creations leaning against the walls of his office he asked, "Why do you want to come to Ringling? Fabric is obviously your thing, and none of the professors here can teach you anything about that."
My answer was simple: "I know all about fabric, yes. But I don't know about making art using any other medium. There's no future in making fabric art, so I want to learn how to make art that would support a full-time career." Ironic, right?
That was good enough for Bucky, so I was accepted into Ringling as an Illustrator. For the first two years, I experimented with every medium except fabric. You name it, I used it. In my junior year, my Illustration professor happened to see my online fabric portfolio. He asked why on earth wasn't I making fabric art, because the fabric work was far and away better than anything else I had produced in his class. That's how I got back into fabric. For my last two years at Ringling, including my entire senior thesis, I was back to working exclusively in fabric. I graduated with honors in 2010.
The Heavens Shift Once Again
In 2017, I experienced another life-changing, monumental event. I learned about the world of art quilting. Up until that point, I had no idea that my method of making fabric art was called fused appliqué, nor that quilt shops with thousands of bolts of batik fabric existed, nor that there was an entire world of people making art out of fabric. I had felt so alone and isolated up to that point. Discovering the art quilt community was like rounding a bend and stepping into Shangri-La. I finally had a group of people who fundamentally understood my work and a plethora of new art shows to enter where not only would the judges understand art made out of fabric, every artwork in the show would be made out of fabric! Words cannot express how momentous that discovery was for me.
Today, I'm still using the same core creative process to make my art quilts that I started using way back in 2004. The only differences are I now sew my fabric art to make quilts, I have digitized as much of my process as possible, and all of my work is fantasy-themed. I've always dreamed of a world with dragons and sea monsters and steam-powered flying machines, but it wasn't until I started making quilts that I finally allowed myself to bring scenes from the imaginary world in my head to life through my art. My unique ability to combine an innate sense of design, boundless imagination, modern technology, and a passion for fabric make my artworks truly one-of-a-kind.
Why Fantasy?
The short answer is I'm a big nerd. I was the kid drawing dragons in a sketchbook at the school lunch table. I grew up reading the Dragonriders of Pern, playing Magic: The Gathering, and roleplaying Dungeons & Dragons characters. I adore the plethora of magical worlds that exist beyond our own.
The longer answer is that challenging myself is a vital part of my enjoyment in making art, and there's nothing more challenging than making artwork of people, places, and things that don't exist. Imaginary scenes and subjects only exist in my head. When bringing them to life in my art, there are no reference photos to tell me if the proportions and perspective are correct.
Recreating imagination in any medium, but especially fabric, is hard work and takes an immense amount of talent. But the payoff is so emotionally satisfying. A scene in my head can only be appreciated by me. A scene taken from my mind and recreated in fabric can be shared with the world.
Let's Connect!
View my entire portfolio, read my blog, and sign up for my newsletter at KestrelMichaud.com.
Follow me on Instagram: @kestrelmichaud